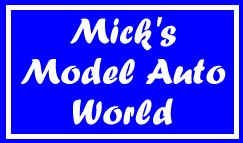 INDEX
Welcome to my die-cast model display. The models you will find here comprise my collection so far. As you will see I have a varied taste. Until recently I acquired anything & everything that caught my eye. Of late I have started to concentrate on particular items that truly interest me. I still get sidetracked from time to time though. Enjoy your visit & I hope you find something that you didn't know or would now like to find for yourself.
Trade Marks & other copyright material are used for reference only. It should be noted that there is no intimation, inference or suggestion that this site is in anyway associated with these Trade Marks or that goods bearing them are for sale.
If you spot an error, would like to comment or are in a position to provide additional information please email me.
Search Mick's Model World
My young son Connor's Collection
© 2000 Macacopa. All rights to images, script and other site resources are reserved. All Trade Marks where possible are used by permission of the owners.