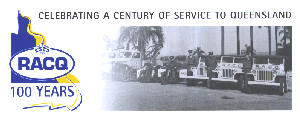 RACQ Centenary Edition HOLDEN EH Van Released August 1963 The 1963 RH Holden was quick to find a place among commercial and government service fleets, including a number of RACQ Road Service contractors, and is presented here in authentic club livery of the era. This model was popular because of its modern looks and practical interior height.

RACQ celebrates a century of serving Queenslanders in 2005.

Holden EH Van. Trax. Holden. Made in China. © 2003. RACQ. 100 Years. Celebrating a century of service to Queensland. RACQ Centenary Edition. www.racq.com.au.
Back to Top Gear Pty. Ltd. Index
© 2000 Macacopa. All rights to images, script and other site resources are reserved. All Trade Marks where possible are used by permission of the owners.